Meet the Characters
Click here to view all characters!
Featured Character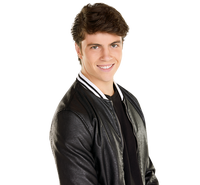 JJ is one of the main characters in the series. He is played by Riccardo Frascari.
Bio

JJ is from the year 1957. He is affectionate, funny and confident. JJ was Vero's boyfriend before falling in love with Eva. With Eva's help, JJ learns to follow his dreams of becoming a singer and dancer in the Club 57 show. He is also a member of his school's basketball team, where he often finds himself bickering with his rival, Andrés.

Featured Episode
"The Time Center" is the eighth episode of the series.
Summary

Time Guardian Aurek embarks on his mission to return Eva and Ruben to the 21st century. Fed up with Droide's whiny advice, Aurek decides to deactivate him and proceed alone. When Aurek spots Eva and Ruben, he misses his aim and accidentally teleports Manuel into the future.

Click here to read more about this episode!